Stepless Frequency Conversion Regulating Technology
The gas regulating valve of SIEMENS in Germany and the non-polar variable frequency fan of Ebmpapst in Germany are selected. The output load is adjusted by 10%-100%(regulation ratio is 1:10). The heat output curve of the boiler is as close as possible to the dynamic heat demand curve, with less invalid output, and the operation efficiency is improved.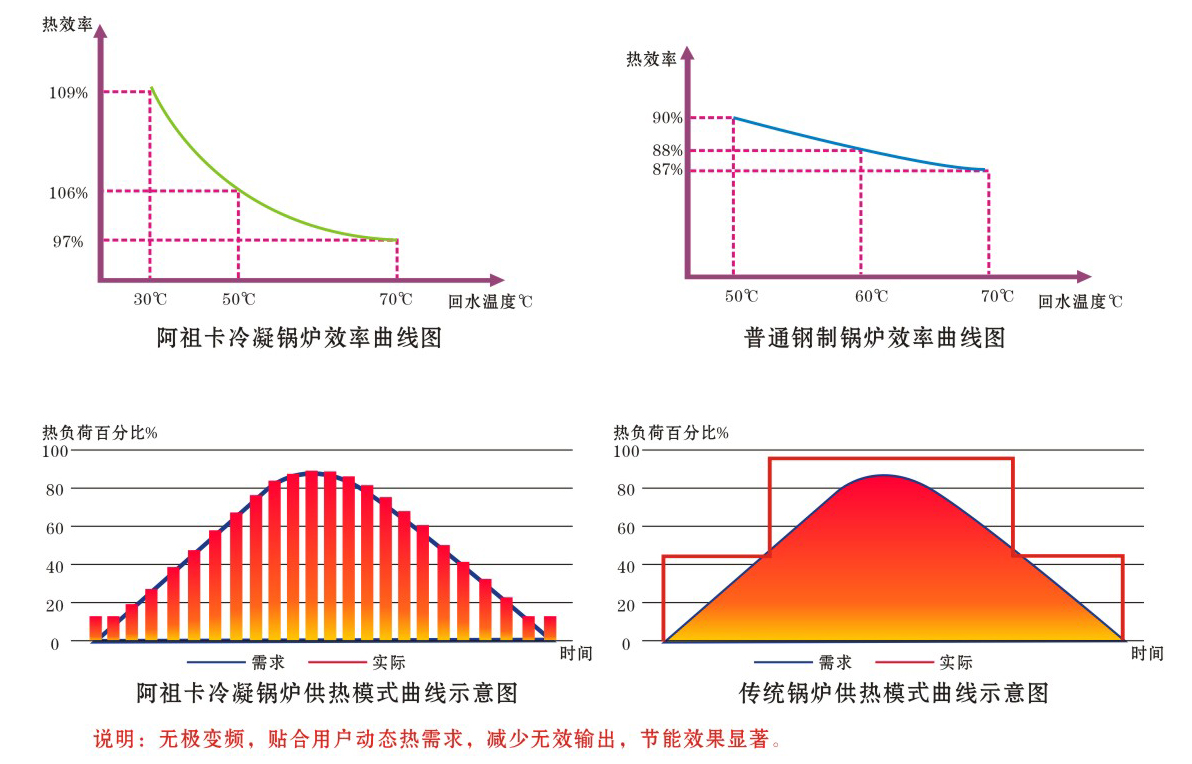 Safety Monitoring and Protection Technology
Safety monitoring and protection, all-round guarantee of equipment safety, to achieve unattended operation
Water Flow Protection-Monitoring the Normal Operation of Pumps
Flame Protection - Monitoring the Combustion Flame to Ensure the Normal Combustion of the Combustor
Gas Pressure Protection-Gas Pressure Overlow Stop Protection
Temperature protection-protection of excessive temperature of effluent
Anti-freezing protection - when the water temperature of the boiler is below 4 C, the boiler is automatically heated to 15 C.
High and Low Pressure Protection - Boiler will not be damaged due to voltage fluctuation
Flue protection-protection against flue blockage and condensate discharge blockage
Air Pressure Protection - Monitoring the Operation of Fans to Ensure the Normal Operation of Burners
Filter Blockage Protection - Monitor the Blockage Status of Filters


Boiler Design Science
Boiler has scientific design, compact structure, beautiful appearance, convenient installation and small floor area.
Take a 1-ton condensing boiler as an example, its weight is only 0.55 tons, less than 25% of the traditional boiler weight, and its volume is small and light. It is installed in basement, roof and other places through door holes and elevators, occupying less than 1.3 m_and no hoisting ports need to be reserved.
The base of condensing boiler has movable wheels and adjustable height, which provides convenient conditions for the mobile installation and commissioning of boiler equipment. The exhaust pipe adopts PVC pipe, which is easy to install and saves installation cost.